Profile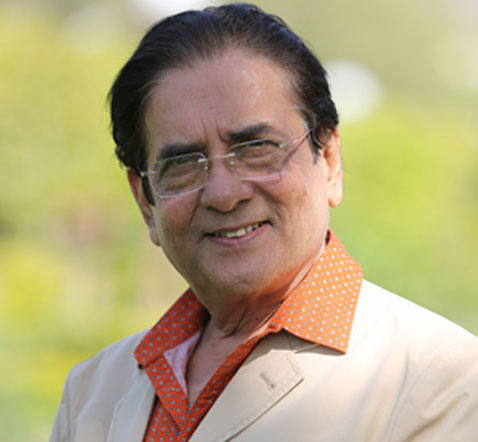 Mr. Devendra Khandelwal is well known in the film and television industry as a talented producer-director of international repute. He has been acclaimed at national and international forums not only as a producer- director, but also as an actor and writer. After post-graduation in Business Administration from H.P.University (Shimla), he learnt film-making from trend-setter directors like Basu Bhattacharya, Basu Chatterjee and Satyen Bose..
His main forte is short films and documentaries, though his vast repertoire touches upon almost every genre of filmmaking - from feature films to commercial ad-films and corporate filmmaking. His body of work ranges from popular comedy serials, historical and religious films, educational programs and musical countdown shows, sports based series, cultural and informative documentaries and children's programmes. He also made a feature film "MAUT KI SAZAA", which was hailed as one of the finest films of his career by doyen of Indian cinema Shri Ashok Kumar.
Mr. Khandelwal is virtually the only short-film maker in the country who has made landmark films on a whole range of subjects. To highlight Mr. Khandelwal's immense contribution to the Indian film and TV industry, we cite below a few of the most prestigious and notable projects directed by him.
Noteworthy Works
Mr. Khandelwal is virtually the only short-film maker in the country who has made landmark films on a whole range of subjects. To highlight Mr. Khandelwal's immense contribution to the Indian film and TV industry, we cite below a few of the most prestigious and notable projects directed by him.
In 1994-95, NFDC (NATIONAL FILM DEVELOPMENT CORPORATION) promoted 42 short films for export, 13 of which had been made by Mr.Khandelwal
Films Division of Government of India commissioned a short documentary "Sindhu Gatha" on river Sindhu to highlight the unity campaign of Home Minister Shri L.K.Advani. The cassette of this documentary was released by Prime Minister of India Shri Atal Bihari Vajpeyee in 2001 at Laddakh.
"Panchajanya" a short film directed by him on golden jubilee celebration of Weekly Panchajanya ( founder editor Shri Atal Bihari Vajpayee) for Doordarshan
"Circus in India" and "Miss India" were the first Indian shows to be aired on China TV on the occasion of the visit of Indian Prime Minister Shri Rajiv Gandhi. Both were directed by Mr Khandelwal.
Directed a serial on the life and times of Shri Morarjee Desai, the Gandhian Prime Minister of India, for Ministry of Human Resource Deveopment in 1996 which was released on Doordarshan's National Network and was highly acclaimed.
Directed documentary Amar Shaheed Dr Shyama Prasad Mookherjee on his birth centenary for Doordarshan.
He directed TV Serial Haqueeqat on Kashmir for National Network of Doordarshan and Ministry of Home Affairs.
He has directed a 3-part series on the "Maha Kumbh 2001", commissioned by the Ministry of Culture, which is probably the longest short film about any one event.
He directed immensely popular comdey serial "Bheem Bhavani" starring Shri Ashok Kumar and Shri Anup Kumar which was telecast on the National Network of Doordarshan.
As Writer:

Published more than 100 articles, short stories, poems in the leading Hindi publications. An informative book for children in hindi, "Bhartiya Bachchon Ke Khel" is in press and book on Morarji Desai, former Prime Minister of India, titled," RAJNAITIK SANT : MORARJIBHAI" is published by Navjivan Press, Ahemdabad.

Wrote screen play for more than 200 shot/ad films.
Former editor of Richa, an annual Hindi publication.

As Actor:

Acted in many film as a leading man and in the pivotal roles:

TUMHARA KALLOO (Basu Bhattacharya), KHATTA MEETHA, JEENA YAHAN, KAMALA KI MAUT(All Basu Chatterjee), SAUTELA PATI(B.R.Ishara), SHYAM TERA KITNA NAAM(R.Sony), DIL WALA DULHANIYA LE JAYANGE(R.S. Atish, 1981), KHEMRO LODAN(Guj.), BAJE SNEHAL HAMAR ANGANA, SENURWA BHAYAL MOHAL (Both Bhojpuri), KARMABAI, THARI MARI(Raj.), SAAL SOLVAN CHADYA(Punjabi.) etc.

He has made Docu-serial for Doordarshan and Ministry of Home Affairs, called "Veeron Tumhe Salam" based on the bravery of the martyrs during war at Kargil.
Mr. Khandelwal also ventured into education programmes. His "How to Prepare for Civil services examination" is a landmark show in production of educational programmes.
He has written and produced sports-based serials called "Bharatya Khel" and "Bharatya Bachchon Ke Khel" which educates viewers about the rules and regulations of Indian games and the scientific method of playing these games.
Directed a 60-part series "Learn Hindi" for UK-based TV Network "Namaste".
He directed many public-service films including film for Ministry of Health and Department of Adult Education of NFDC.
Pioneer of Music video in our country. Directed more than 40 music video for T-Series.
Directed most prestigous New Year Eve programme for two satellite channels ATN and NEPC in 1997.
He is the only film-maker who has made TV programmes of all genres: General entertainment, musical, children, educational, promotional, training, travellogue, social service, News-based, Film-based shows, live shows, Agriculture, Cultural, Historical, Women and Family interest, Entertainment and religion.
Honours and Awards
His work has been awarded and given due recognition from time to time.
Invited at International Film festival held in China, Israel, Iran, USA and Nepal
"Gem Of India" award conferred by the All India Achievers Conference,, New Delhi in 1997.
Awarded - "Certificate of Merit for Acting" at Moscow Film Festival for the Hindi film "Jeena Yahan".
Awarded by Punjab Cine-Goers Association, Chandigarh - "Best Punjabi Actor" for the Punjabi film "Saal Solvan Chadya".
Uttar Pradesh Film Journalist Association felicitated him for Bhojpuri film "Senurwa Bhayal Mohal" at Lucknow.
Madhya Pradesh Film Journalists Association, Bhopal felicitated him for "Contribution towards development of the Art of Cinema".
Madhya Pradesh TV producers Association, Bhopal felicitated him for upholding great cultural values in his serials and his unique achievement in the field of Television Serial
Malwa Manch, Ujjain honoured him with the title "Malwa-shree" for his love for Theatre.
Bombay Municipal Corporation awarded him and his entire unit for his public service short film "Keep clean Mumbai"
Natraj Academy, Mumbai honoured him with Best TV Serial Producer of the year award for his TV Serial "Veeron Tumhe salaam"
Offices Held
Panel member of Indian Censor Board of Film Certification, 1998, appointed by Government of India
President of PAT (Indian Association Of Producers, Artistes, and Technicians of Short Films and TV Programmes) 2000-2002.
Member of the Telephone Advisory Committee Mahanagar Telephone Nigam Ltd. up to 2001.
Convener (Media Committee:2001-2002) Indian Documentary Producers Association.
MEMBER OF THE JURY
Recognising his contribution to the Indian Films and Television Industry, he has been appointed as a Member of Jury for several popular and Prestigious Awards.
45th National Awards, 1997-98, conferred by the President of India
National jury for selection of Indian Films screened at the Indian Panorama 1998-99, appointed by the I&B Ministry, Government of India.
1st Screen-Panasonic Awards 1994-95.
Screen-Videocon Award for films 1999-2000.
Appointed Jury Member for prestigious Screen-Videocon Award for Television 2000-2001.
Appointed Board member CHILDREN FILM SOCIETY,India ( an autonomous body of Govt. of India ) 2003 - 2006.
Films Produced
AD-FILMS AND CORPORATE PROMOTIONAL FILMS
Mr. Khandelwal has directed ad-films as well as corporate promotional films. His list of clients includes national majors such as Hindustan Lever Exports, Fedders Lloyd, Vardan soya, Goa Shipyard, Sipta Surya, Lyril vests, Vicco, Dalmia Dairy, JK Cement, Cynamid India, BASF, Super cassettes, ATN, NEPC, Birla cement, Chitralekha and G magazines, Parag Sarees, Godfrey Philips, Rajashree cement, Praffulla Sarees, BMC, Double Bull, Maharaja Mixer, Cinni fans, Concept Shirts etc. He has also directed internaltion ad-commercials Fashqua (Japan), Fabiolax & Whiterose (UAE), Namaste TV (UK) title etc.
PUBLIC SERVICES FILMS
Films for pulse polio for Ministry of health and NFDC featuring film-stars like Amrish Puri, Poonam Dhillon, Dara Singh. Films for Cleanliness drive for BMC featuring Miss World Yukta Mookhey. Film for Environment protection featuring Sunil Dutt, Basu Chatterjee, B.R Chopra, Reema Lagoo etc. Film for Earth Quake featuring Anil Kapoor
SHORT FILMS
In the year 1994-95, National Film Development Coroporation of india promoted 42 short film for export, out of which 13 short films were produced by Mr.Devendra Khandelwal.

Directed in short films in almost categories and on varied subjects. His two documentaries CIRCUS IN INDIA and MISS INDIA were the first indian documentaris to be shown on CHINA TV. Mr.Khandelwal was also special invitee at International Film Festival of China.

Another documentaries "A JOURNEY TO A MOUNTAIN GOD" was directed by him for C.C.R.T, Government of India.

Directed a short documentary "SINDHU GATHA " for FILMS DIVISION.

The other important documentaries produced/directed by him are: AARTIS, JAIN DHARMA KYA HAI, MAHAKAL KI NAGARI, MALVI SONGS, ONKARESHWAR, OON : CITY OF NINE TEMPLES, PT. BHIMSEN JOSHI, SHYAMA PRASAD MOOKERJEE, MAHAKUMBH, PANCHJANYA KI YASHOGATHA etc
TV SERIALS
He produced and directed numerous TV serials including BHEEM-BHAWANI, starring Ashok Kumar and Anoop Kumar, which was telecast on National Network of Doordarshan

It starred almost all the noted comedians of Hindi Cinema including Mehmood, Agha, Mukri, Tuntun, Mohan Choti Yunus Parvez, Guddi Maruti, Jr.Mehmood, Rajinder Nath etc.

Another production YE HAI JHUMRI TALAIYYA was released on NEPC.

Co-produced and Directed TV Serial on life and times of late Shri Morarji Desai, Ex-Prime Minister of India.

Directing TV Serial for various channel : "DIL KARE DHAK DHAK", "BHAHADUR BACHCHE", "YE DIL KISKO DOON", and "SINHASAN".

Doordarshan commissioned a TV Serial "VEERON TUMHE SALAAM" on the martyrs of Kargil.

Produced and Directed a TV Serial "HAQUEEQAT" on Kashmir Problem for Doordarshan's National Network.
FEATURE FILMS
Mr. Khandelwal has produced and directed a feature film called "MAUT KI SAZAA" which its hero and doyen of indian cinema, Shri Ashok Kumar hailed as "One of The Best films Of my career". It also starred star cast such as Aloknath, Sudhir Pande, Anita Raaj, Satish Kaushik, Sonika Gill, Ranjit and Dara Singh.
EDUCATIONAL PROGRAMMES
An Educational Programme conceived and directed by him titled "HOW TO PREPARE FOR IAS" is a landmark in the production of Educational Programmes.

Directed 50 part TV Serial FOOD STATION and 60 part TV Serial "LEARN HINDI" for International TV Network 'NAMASTE (UK)'. 18 part TV Serial RASOI was released on NEPC and DD International.

Producing a 152 Part TV Serial on International cuisine in 10 language titled "DESH VIDHESH KE VYANJAN".
AD-COMMERCIALS
Internationally renowned short film maker, made more than of short films and ad-commercials. Directed ad-commercials for international clients like FASHQUA (Japan), FABIOLALX (Japan), SILKISTAR (Dubai) etc. He is one of the most innovative directors of short commercials - PARAG SAREES, DOUBLE BULL SHIRTS, PRAFUL SAREES, CHAMAN BAHAR, CONCEPT SHIRTS, CHITRALEKHA, JK CEMENT, more than 300 such commercials.
MUSICAL PROGRAMMES
He directed many programmes on classical, traditional, Folk, Film and Pop music. The programmes like POP-STAR OF INDIA, BAPPY LAHIRI NITE, SAAT SURON KA SANGAM etc. proved very popular. Film music based TV Serials produecd and directed by him successfully ran on ATN Satellite titled "GEETMALA" AND "HANSEKE PHANSE". FILM "JADOO" and "HINDI POP SAB PAR TOP" proved very popular on NEPC. DAM DAM DIGA DIGA and PAANCH RUPYAYA BARA AANAA topped the popularity chart at Doordarshan (Bhopal).
SPORTS PROGRAMMES
Produced prestigious TV Serial BHARTYA KHEL and BHARTIYA BHACHCHON KE KHEL. Each 13 episodes. In this programmes first time rules and regulations of Indian Sports are taught.
CORPORATE/ INDUSTRIAL/ AGRICULTURE FILMS
He pioneered new concepts in Coroporate films. The Corporate, Agriculture, and Industrial films directed by him include films for BIRLA CEMENT, FEDERS LLOYS, PUNJ SONS, CYANAMID INDIA LTD., RAJSHREE CEMENT, SIPTA SURYA, BASF etc.
CHILDREN PROGRAMMES
He directed a documentary CIRCUS IN INDIA, which won International acclaim. His another TV Serial for children "MAYA JAAL" has been released on NAMASTE TV(UK)

Programme directed and produced by him are released on DD, ATN, NEPC, ASIANET(USA), NAMASTE (UK) etc.

The above is a list of his most notable achievements, but it is by it is by no mean complete or exhaustive. Mr. Devendra Khandelwal is not a person to rest on past laurels. He takes relentless efforts to make new films, which are both, informative as well as entertaining.
Forthcoming Ventures
A TV series on the life of the Father of the Nation, Mahatma Gandhi, titled "BAPU".
A Magnum Opus "MAA".
Mammoth 200-episode TV serial "BHARAT DARSHAN" on various aspects of the rich Indian culture and heritage.
International co-production "IN SEARCH OF THE MOON" in Hindi and English.
A 6 Part TV serial / 3 VCD on "HOW TO FACE AN INTERVIEW".
104 part animation serial "STORIES FROM INDIA"
Serials "YOGA FOR BETTER HEALTH" and "AYURVEDA"